http://www.businesskorea.co.kr/news/articleView.html?idxno=22842
US$1 Bil. to be granted to the PhilippinesKorea to Support Philippines's Port Project with US$173 Mil. in EDCF Funds
By Michael Herh
June 6, 2018, 20:21
The Export-Import Bank of Korea announced on June 5 that the state-run bank inked a loan grant contract with the Department of Finance of the Philippines on June 4 to support the Cebu New Port Construction Project with US$173 million in the Economic Development Cooperation Fund (EDCF) funds.
The agreement was signed shortly after a summit meeting between Korean President Moon Jae-in and Philippine President Rodrigo Duterte in Seoul. It is the first loan grant agreement based on the US$1 billion Korea-Philippines EDCF agreement that will hold from 2017 to 2022. It is the first time that the EDCF is used to support a port construction project.
The Philippines is a nation comprised of about 7,000 islands. Due to its geographical nature, most of the nation's logistics depends on maritime transportation. So, it is important to expand the nation's port infrastructure in order to achieve sustainable economic growth. In particular, Cebu Port which handles 11% of the nation's total cargo volume is in dire need for port expansion due to its poor infrastructure.
If US$173 million in EDCF funds is granted to the Philippines, the nation will improve its marine transportation conditions through the expansion of its port infrastructure. In the end, the funds will generate direct and indirect job creation effects thanks to the growth of the Philippine industrial and economic sectors.
https://pulsenews.co.kr/view.php?year=2018&no=356614
Exim Bank pledges $173mn financing for Cebu port construction
2018.06.05 14:53:09 | 2018.06.05 15:47:36
State lender Export-Import Bank of Korea (EXIM Bank) pledged $173 million in low-interest loan through the economic development cooperation fund (ECDF) to finance a new port construction project in Cebu, the Philippines.
Port expansion is one of the most important infrastructure projects for the Philippines that is made up of more than 7,000 islands and has high dependency on maritime transport. Cebu's port construction project is one of the country's top priority tasks and the Philippine government has been asking for financial aid to the Korean government since last year.
The loan agreement was announced during Philippine President Rodrigo Duterte's three-day visit to Korea from Sunday. Duterte had a summit with South Korean President Moon Jae-in and attended various events to reinforce economic and cultural ties between the two countries. It was his first visit to Korea.
The latest policy loan is expected to contribute to greatly improving maritime infrastructure of Cebu. "The financial aid to the Philippines, one of our allies that sent forces to Korea during the Korean War, would strengthen economic ties between the two nations," said EXIM bank chairman Eun Sung-soo after the signing ceremony.
The Cebu port project is the first project aided by Korea since the two countries signed a $1 billion soft loan arrangement for the Philippines' infrastructure projects last month through the EDCF. It is also expected to help Korean companies start or expand businesses in the country.
The EDCF was established in 1987 to provide low-interest financing to developing countries and promote economic cooperation with other countries. EXIM bank provided 15.9 trillion won ($14.9 billion) in loans to 395 projects of 54 countries as of the end of April.
By Lee Seung-yoon and Choi Mira
https://thediplomat.com/2019/02/south-korea-eyes-aseans-port-projects-amid-domestic-slowdown/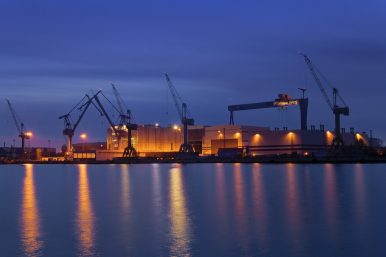 Image Credit: Pixabay
South Korea Eyes ASEAN's Port Projects Amid Domestic Slowdown
With the construction industry struggling at home, South Korean companies are looking abroad.

By Tae-jun KangFebruary 16, 2019
As the domestic construction industry is struggling and shows no sign of reviving, South Korea seems to have decided to look outside the country to overcome difficulties. In particular, the country is moving to beef up its presence in the Association of Southeast Asian Nations (ASEAN).
In the latest example, South Korea joined hands with Laos to support the development of a dry port in the land-locked communist country.
Under the memorandum of understanding (MOU) signed on February 15, the two countries agreed to jointly implement port development cooperation projects and exchange human resources such as port experts.Enjoying this article? Click here to subscribe for full access. Just $5 a month.
This MOU is another step forward in South Korea's current support for port cooperation projects, including the establishment of a national logistics transport system and the feasibility study of dry ports.
In August last year, the South Korean government also began to establish basic plans for 34 ports nationwide in Vietnam, and, in October, it also signed a MOU on the cooperation of port development between the two countries. With that MOU, South Korea pledged to help Vietnam to study the function of ports by region, direction, and timing of development as well as the design of the port infrastructure.
Such moves came after South Korea's participation in the latest ASEAN Maritime Transport Working Group Meeting held in August 2018.
At that time, it was reported that officials from South Korea's Ministry of Oceans and Fisheries were scheduled to meet their counterparts from Vietnam, Laos, and Cambodia to discuss port development projects. Jang Gi-wook, an official at the ministry, said during a press interview last August that the South Korean government hoped to pave the way for South Korean firms to have more businesses opportunities in ASEAN member states.
South Korea's efforts to increase its partnership with ASEAN nations, in particular, in the port development field is not a coincidence considering that the domestic construction industry is currently struggling.
According to data from the Bank of Korea, about 240 trillion South Korean won ($213 billion) was invested in the construction sector in South Korea in 2018, a 4 percent decrease from the previous year.
The central bank also predicts that the country's construction sector will see decline by 3.2 percent in 2019.
The industry is showing other worrying signs. For example, companies are reducing the budget for social overhead capital (SOC) projects – the construction of public goods like roads, schools, or hospitals — in the country, which are often seen as profitable business for construction firms. Korea Expressway Corporation and Korea Rail Network Authority decreased their budgets for SCO projects by 38.7 percent and 28.5 percent, respectively.
"Construction companies are seeing their orders drop sharply as construction investment has decreased since the second half of 2017," said Kim Seong-deok, a researcher at Construction and Economy Research Institute of Korea.
"Although their performance did not decline until last year, construction companies are also reducing lending to prepare for risks as it is expected that its performance will continue to decline as they will begin to see the impact from decreased orders starting this year," Kim noted.
Recent signs are clear that the South Korean government hopes to utilize its cooperation with ASEAN members in port development as a turning point for domestic construction firms. However, there are still many obstacles to overcome.
Kim Yang-soo, vice minister of Oceans and Fisheries, cited a lack of experience of domestic firms in such projects as one of the main obstacles.
Kim explained that ASEAN nations prefer to attract private investments due to their poor financial infrastructure, but South Korean construction firms do not have enough experience with attempting to enter overseas markets individually.
Many domestic firms, instead, have participated in subcontracting projects so far, such as the port project in Philippines' Cebu led by the Economic Development Cooperation Fund, he noted.
Recognizing the issue, the Ministry of Economy and Finance currently supports feasibility studies for port projects that domestic construction firms are interested in while also operating a specialized center to provide consulting services for such firms. The ministry has also vowed that more supporting measures are coming.
On a broader scale, the South Korea government has recently announced that it will invest 6.2 trillion South Korean won ($5.5 billion) to help the country's construction companies seek overseas opportunities, including port development projects.
Time will tell what results such efforts would bring.